By Joseph Heo
Every student knows the pains of having to buy presents for friends and family on many occasions, even with tight budgets. But on this Mother's Day, express your gratitude for Mom, without having to stress your wallet! Here are five easy, low-cost, and effective ideas for Mother's Day.
#1: Cooking
In many families, the mother is the main caretaker of the family, and takes care of things that need to be done at home, including cooking. Just for one day, reverse the roles of parent and child by cooking for your mother. Everyone loves being pampered (and yes, the self-sacrificing Mom isn't an exception), so for that one special day, pamper the one who pampers you.
Start her special day by making a special Mother's Day breakfast! Make her favorite breakfast meal, and for an added bonus, serve it to her in bed. Toast and eggs is a satisfying meal that is easy to make, which makes it perfect for this occasion. Another option is to make pancakes, a classic Mother's Day breakfast, or an everyday meal, such as toast.
If you are unable to make breakfast for whatever reason, there is always the option of making dinner. Of course, this is trickier than making breakfast, and the meal will be more complex, and usually involves the creation of more than one dish, but regardless of whether it a difficult dish such as steak, or a very simple one, such as spaghetti, as long as you put effort into making it, your mother will be satisfied.
#2: Handmade Decorations
A very common gift given to home-tenders is home decoration. Creating a decoration that expresses your love for your mother is an ideal, costless gift for Mother's Day. Here are some suggestions:
A personally decorated picture frame, with a photo of your family is a classic, but effective gift to show one's gratitude. This is very simple, as the only things you will need to do is buy a cheap, wooden picture frame from the nearest arts/crafts shop, and simply decorate it, and stick a photo in it.
Another possibility would be to make a candle/candle holder. Candles are used in everyday life to eliminate odors whilst cooking, to set the mood at events, or just simple decoration. This goes especially well with making dinner, as you can use it while cooking, as well as during dinner. However, this may require additional materials, and therefore cost more money.
#3: Coupons
Although they seem insignificant and hastily created, coupons are surprisingly effective gifts for Mother's Day. An added bonus is that the only materials you need are pieces of paper, scissors, and writing utensils. There is usually no additional cost to this method, but may require more effort, depending on what you put on the coupons. Here is a list of recommended coupons:
Chores

Errands

Other

-Walk the dog
-Go shopping
-Get along with siblings
-Do dishes for a week
-Take siblings to lessons, practices, etc.
-An hour of silence (actually practical)
-Do laundry for a week
-Refill the car with gas
-Breakfast in bed
-Babysit for a night
-Go to bottle depot
-Make dinner/lunch for the family
-Wash the car/take the car to get washed
-Help with technology
-Clean the house
-Become an "assistant" for an hour
-Massages
#4: Literary Items
By "Literary Items", I mean pieces of writing that expresses your gratitude, such as poems, letters, etc. Mother's Day cards have been used for a while, and are a straightforward gift, requiring no artistic skills, a large budget, or needing to be face-to-face (perfect for families that are split from business trips, illnesses, etc.) These have always been effective, especially when combined with another gift.
Cards can be homemade, or if you are unconfident about your artistic skills, one can be bought from most "dollar stores" for around $1.00-$2.00. Cards can be about anything, including, but not limited to your favorite memories about your mother, to regrets about yourself, and resolutions (kind of like New Year's resolutions). They can contain a humorous message, or set a serious tone, whichever one suits your mother better.
Poems, on the other hand, may be more difficult to write, as one may set certain rules for the poems, such as rhyming, and require a wider vocabulary, depending on which type of poem you choose to write. Similar to the letter, these can be about anything about your mother, and can be humorous. Additionally, drawings and artistic aspects can be added to them to further increase their appeal.
#5: Miscellaneous Gifts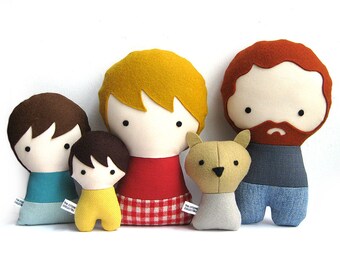 Instead of getting Mom a traditional "thank-you card" for Mother's Day, you can get her the most wacky, unique gift you can think of! However, these gifts are usually more humorous, making them unsuitable if you want to set a serious mood. Here are some recommendations for these gifts.
Making dolls wearing your baby clothes are an innovative way to reuse your old clothes. By doing this, it reminds your mother of how much you've grown since the time you were a baby. This is even further effective if the doll was something that you had since babyhood. However, this may requires more advanced sewing techniques to make your clothes fit the doll, and is only viable if you still have your old clothing.
My final suggestion in this article will be to make a book of your 52 favorite memories about your mother: one for each week. Similar to a book of inspirational messages, a page is to be flipped every week, until the next Mother's Day. This may require more effort than other gifts, but it pays off, as there are no repercussions involved with this gift (or at least there shouldn't be). This gift will be especially dear to your mother, as she can bring back the memories she had of you from previous times.
Of course, the ideas listed here are only a suggestion; you can come up with your own gift! Regardless of whether it's crude or elegant, something bought with money or made by sweat and tears, humorous or with a serious tone, as long as it conveys your gratitude, your mother will be overjoyed with the gift. Thank you for reading this article, and have a wonderful Mother's Day!